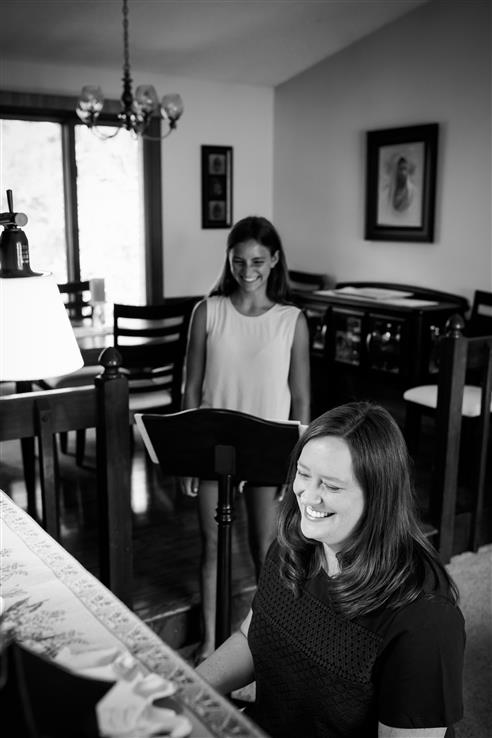 Amelia J. - "I studied with Ursula for 5+ years. She is an incredible teacher. She knows how and when to push. She gave me the most solid and wonderful foundation in Classical and Musical Theatre that has allowed me to pursue any other genre and any kind of singing opportunity with confidence. She is a wonderful teacher, but also a beautiful performer and human being herself."
Noah F. - "One of the best parts of working with Ursula is how smart and concerned she is about vocal health. During musicals she would make sure I'm not damaging anything and taught techniques and exercises to help with long performances."
Brooke M. - "I absolutely LOVED studying voice with Ursula! I studied with her for about 6 years which began around age 14. As a music major, with my voice being my main instrument in my major, she helped me significantly prepare for college! I was able to make it into the top choir of my college without hardly any outside preparation that I didn't already know from lessons with Ursula. Because of her, I was able to be cast as leads in musicals, place first in the musical theater category in NATS for the college level women, and make it into All State Choir both my junior and senior year. I highly recommend lessons with Ursula!"
Adin M. - "Ursula is incredibly patient and talented! Not only as a teacher but as a a vocal performer herself. If it wasn't for her I would not have made it into All State Choir which was an experience of a lifetime! I would recommend her for any talent level. She's amazing!"
Kaitlyn M. - "Studying with Ursula was the best thing that has happened to my voice. It's been many years since my last lesson, and I still remember the little pieces of instruction that helped me catch sight of the tone I want! Thank you Ursula! I treasure all the competitions we went to, the performances, and the wonderful duets I got to sing with the other marvelous students."
Haley K. -"Ursula is a wonderful voice instructor. She does a great job making her students feel comfortable and confident in their abilities while pushing them to do more than they thought they could."
Rachel W.- "I studied voice with Ursula for five years, from eighth grade through my senior year of high school. I can honestly say that she changed my life. I came to her as an insecure middle schooler with an emerging talent for singing, and I left to go to college as a confident, award-winning vocalist and performer--but more than that, I left as a better PERSON. Ursula mentored me in music but also in life. She was a role model and support to me as I went through some incredibly difficult trials, including the death of my mother, and Ursula helped me and my sisters prepare the song that we would sing at my mother's funeral. She taught me so much about music that now, 15 years later, people still ask me where I trained when I perform. They are surprised to hear that I didn't study music in college (music theory wasn't for me!), but I learned everything I know from an incredibly gifted vocal teacher in my teen years. It has all stayed with me! I love Ursula, and I am beyond grateful for all that she has given me."